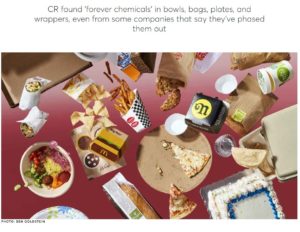 Is preventing cancer in your children and grandchildren worth 30 seconds? Here's a minor adjustment in handling take-out food and microwave food that makes a difference right away- food wrap.
Kevin Loria's amazing Consumer Report
article  shows
 that a lot of food wrap coats our food in cancer-causing forever chemicals called PFAS. 
It' cheap and easy to minimize that.
Consumer Reports lists 3 things we can do at home to prevent cancer from food wrap PFAS :
1. Transfer food out of packaging as soon as we can. The longer food sits in packaging, the more PFAS leaches out of the wrap and into our food. Especially if the food was in paper bags or molded fiber bowls, which had the highest levels in CR's tests. Put the food into foil, silicone, or glass containers, which typically don't have PFAS. Total time 1/2 minute: (20 seconds to transfer the food and then 10 seconds later on to wash the dish we transferred it into when we're done eating.)
2. Reheat food in glass or ceramic- Not its original packaging. Plastic, paper and cardboard wrap increases PFAS leaking into food. See above. This is a 1/2 minute home project to avoid cancer.
3. Test water at home for PFAS. If the level is high, use a water filter. Testing and filtering drinking water takes way less time and effort compared to getting tested and treated for cancer. It's also way less expensive than insurance co-pays and gas guzzling trips to Portland or Boston for chemotherapy.
ACTION NOTE:  As a Maine car accident lawyer (also a Maine Registered Nurse) , my law firm helps people one at a time. But this  post isn't about the usual personal injury/car crash. It's more basic than that.  And it can help way more people avoid suffering or compensate for injury than any single Maine personal injury attorney ever could. So please feel free to pass on the Consumer Reports article in this post to Moms and Dads you know, your children's schools and maybe the local Maine places you usually get your take-out from. I know McDonald's isn't going to start wrapping our take-out in glass (lol) but some disposable wrap has less PFAS. And local Maine places have a choice to use something with less PFAS.  Thank you~
Alison W. Briggs, RN, Esq.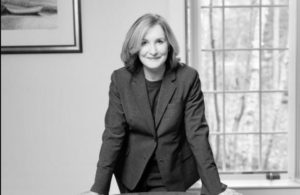 Copyright Alison Briggs, 2022